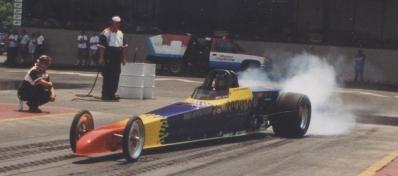 *NGT Racing is a Trade Name of NetGain Motors Inc.
Chassis by:
Spitzer Race Cars - flex chassis, licensed for Advanced ET (300MPH+), ET-1, (designed to NetGain Motors specifications)
Wheel base:
230 inches
Motors:
WarP 13 ™Motor- DC motor (NetGain Motors, Inc. custom prototype)
Batteries:
28, 12Volt
Controller:
2000 Amp Z2K Zilla
Tires:
33*16*15 Hoosier Tires
Wheels:
Weld
Transmission:
Lenco Air-shifted 2-speed
Rear End:
9" Ford
(Fabricated Housing, Strange Engineering ring, pinion, cover, etc.)
Brakes:
Wilwood
Axles:
Mark Williams
Est. Torque:
1,600 - 2,200 ft. lbs.
Top Speed:
150 (our est.)
E.T.:
9 seconds (our est.)
To request further information you may CLICK HERE, or to purchase a motor, please contact one of our Authorized Dealers or Authorized Distributors.
You may contact us directly via the following:
NetGain Motors, Inc.
800 South State Street, Suite 4
Lockport, Illinois 60441
Voice: 630-243-9100
Fax: 630-685-4054
Problems with these web pages? Contact the person responsible for the problems!
Website Use